ARGOVIAN IN LOVE WITH AMBASSTOWN
"Boots"
INTERNATIONAL - SWISS - GERMAN, AUSTRIAN & LUXEMBOURG CHAMPION
BEST PUPPY IN SHOW '08 - BEST SWISS MALE '09 & '10 SWISS-CLUB-SHOW
"APPROVED STUD DOG"
D.O.B. 10.4.2008 • HD-A/A • ED-0/0 • EYES CLEAR • BEAR +/+ • PCD +/+ • MDR1 +/+
KERJALEE AZURE (GB) x CH. ARGOVIAN EMOTIONAL AFFAIR
co-owned with Marina & Fredy Weber, Günsberg / Solothurn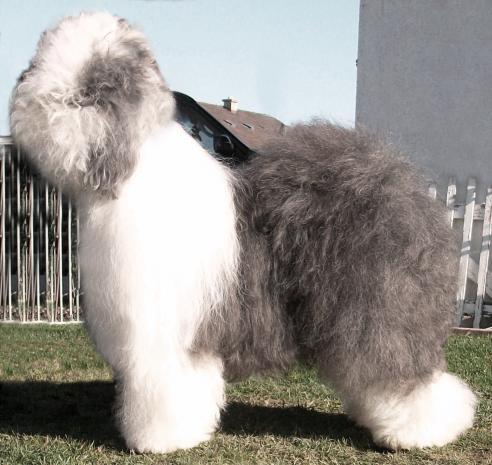 einige Richterberichte / some judge critics:
Jackie Mc Kenzie (SA): large type male, impressive substance, strong bone, large broad skull, strong muzzle, one blue one dark brown eye with full pigment, good bite with large strong teeth, lovely neck and shoulder placement, good deep brisket, cobby body, good topline, lovely rear angulation, good tail set, lovely coat in colour and texture, moved with drive and reach, well developed for age.

Mark James (UK): super type, very mature looking young dog, showing in excellent condition, very good shape, excellent head, strong teeth, big nose, small ears, strong pigment, very good blue eye colour the brown eye could be darker, excellent neck and front, very good bone, good topline, excellent body, strong rear, correct hocks, super coat in texture and colour, very sound movement with reach and drive, very easy on his feet.

Michaela Hall (UK): excellent size, ecxellent body, excellent teeth, excellent strong muzzle, excellent strong underjaw, good head, ecxellent shoulder placement, ecxellent jacket in colour and texture, excellent angulations, movement with purpose.
Sally Duffin-Penney (UK): Beautiful dog of correct size, great head, one beautiful blue eye, nice mouth, good neck and shoulders, lovely topline and raise, moves with ease.

Claude Ritter (F): grosser sehr quadratischer substanzvoller Rüde, schöner Kopf und Ausdruck, ein blaues und ein dunkelbraunes Auge mit viel Pigment, korrektes Scherengebiss, überbaute Kruppe, tiefe Brust, vorzügliche Hinterhand Winkelungen mit tief angesetzten Sprunggelenken, perfektes Haarkleid in Struktur, Farbe und Dichte, bewegt sich schwungvoll und parallel, die Rute ist korrekt angesetzt, etwas zu freundlich getragen.
Boots der verschmuste Riesen-Kuschel-Bär!
Er liebt die Menschen und möchte alles immer richtig machen. Boots hat den Arbeitseifer seiner Mama ist aber dank seines englischen Vaters viel ruhiger bei der Sache. Bootsli lebt zusammen mit Mama Mollie bei unseren Freunden Marina & Fredy wo er zusammen mit 8 Geschwistern zur Welt kam und bestens auf das Leben vorbereitet wurde.
Boots ist ein anerkannter Deckrüde und hat in der Schweiz und Deutschland bereits für tollen & gesunden Nachwuchs gesorgt von denen einige schon Champion sind. Er ist auch der Vater unseres wunderschönen K-Wurfes.