INTERNATIONAL, SWISS, AUSTRIAN & GERMAN (DOESC) CHAMPION,
SWISS-CLUBWINNER '10 & '11, GERMAN-DOESC-CLUBWINNER '10, BEST IN SHOW & GROUPWINNER
EURO-OES-SHOW R-BIS-WINNER & BEST EUROPEAN OES-BITCH 2011
SWISS-CLUB-JUNIOR-WINNER '08

d.o.b. 16.11.2007 • HD-C1 • ED-0/0 • Eyes clear • BAER tested +/+ • PCD +/+ • MDR1 +/+
CH. ELDORADO AUS DEM ELBE-URSTOMTAL x CH. ARGOVIAN CHERRY BLOSSOM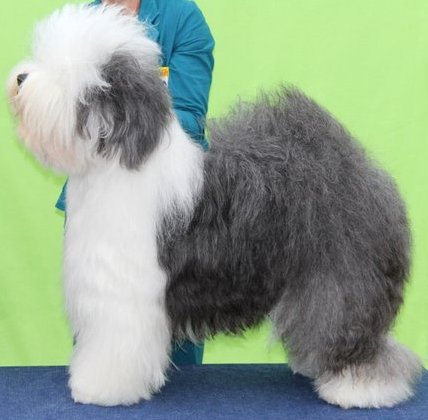 Einige Richterberichte / Some of her critics:
Jacky Mc Kenzie (SA): well balanced ultra feminine 20 month old female, beautiful head & expression, strong muzzle, exc. dentition, dark well pigmented eyes, strong bone, deep brisket, beautiful shaped body, correct top line, exc. rear angulations, small neat hocks, coat clearing nicely and new coat exc. texture, moved soundly front & back, beautiful presented & handled
Mark James (UK): really super type, very compact, good shape, exc. head, good eye colour, realy small ears, very good neck & front, good bone, good body, exc. topline, very good rear with strong hocks, exc. coat colour, really sound mover, beautiful presented
Lynn Espie (NZ): 2,5 year old, beautiful feminine bitch with lovely foreface, square bite, lovely shoulder, long neck, beautiful top line, lovely short coupling, low hocks, good bend of stifle, beautiful presentation, moves with great drive, coat a little dark of good texture
Christine Smith (UK): lovely bitch with very feminine expression, good bite, short strong muzzle, well pigmented eyes, good head, lovely reach of neck, well placed shoulders, lovely angels, short compact body, coat of good color & texture, well presented & moved well
Angie Allan (UK): Super feminine expression with well defined stop, good eye color and pigmentation, well placed shoulders, good spring of rip, good rise to loin, coat of good color and texture, good spend of stifle, well placed hocks, moved and presented A1.
Colm Hastings (IR): nice, nice , nice!!! substance combined with elegance, superquality! Lovely outline, exc. prop. skull, exc. stop and dark eyes, lots of pigment, beautiful neck and shoulder , beautiful straight front, exc. topline, perfect low set hocks, cobby and compact all covered in clear and harsh textured jacket. moved with great drive and extension, well handled & presented. Wish she was mine!
PEPITA ist unser verschmuster Familien-Clown und Früchtejunkie. Sie liebt Kinder und würde Colin am liebsten täglich in die Schule begleiten. Ihren Übernamen "Schnattchen" hat sie sich durch ihre besondere "Lautsprache" verdient; sie kann schnattern, prusten und brummen.
Pepita liebt das spielen und toben genauso wie die Hundeschule und besucht mit Eifer und Erfolg einige Hundekurse von der Junghundegruppe bis zum Begleithund.
Pepita wurde mit grossem Erfolg ausgestellt ,ist mehrfacher Champion und die Mutter von unserem K-, L- & M-Wurf.
Sie ist noch Topfit, der Chef der Truppe und geniesst ihre Pension.
Pepita blieb bis ins hohe Alter sehr fit und war in ihrem ganzen Leben nie krank.
Im April 22 zeigte sie uns aber dass unsere gemeinsame Reise nun zu Ende geht.
Pepita ist am 4.April bei uns zuhause eingeschlafen ♥